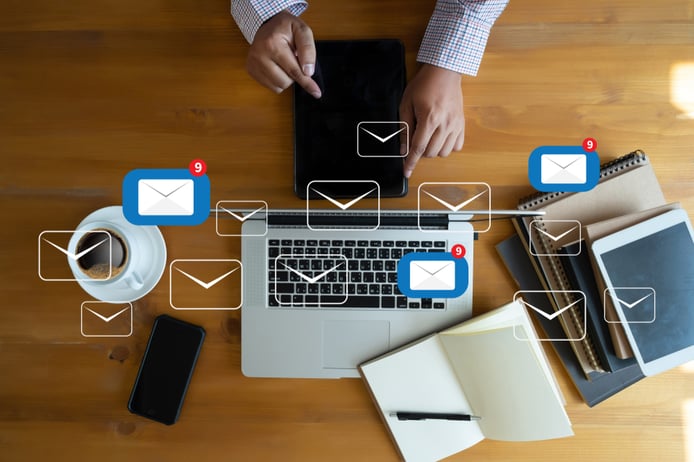 Email marketing is a very effective strategy for engaging your audience in terms of reach and cost. Because email gives broad access to the most engaged sections of your target audience, it can be used by itself or as part of a combined plan. For small budgets, email marketing is one of the best forms of advertising because it's easily accomplished without a huge ad spend. When paired with other aspects of your advertising campaign, it complements your other efforts as a promotional and lead nurturing tool.
Here are a few tips on how you can successfully integrate email marketing into your advertising strategy.

The Benefits of Email Marketing
use email, and 95% of them check their boxes every day. That makes email marketing an incredibly effective way to reach your target audience. These high rates of response and engagement put your brand directly in front of the consumers with simplified, personalized communication.

Email is the channel many consumers say is their preferred method of receiving content from businesses. In terms of return on investment, it clocks in at $42 back for every dollar spent. This incredible ROI allows for diverse uses like lead nurturing, blog promotion, and alerting your customers to sales and special events. It provides the opportunity to bring awareness to your brand with minimal time and money investment.  
If you are not using email to market your brand, you miss out on both engagement and sales. 
Incentivize Your Audience to Sign Up
Successful email marketing depends on having a list of people who fit your target audience and are likely to become your customers. Plan your marketing goals around this list to keep consumers engaged to get repeat business. It's crucial to grow this list organically because then you know you're reaching the people who know your business and will be receptive to your offerings.
To develop your list, have patrons sign up in-store or promote sign-ups online through other advertising channels. Using social media posts and quizzes or a pop-up on your website helps you find people and grow your list. Offering discounts or additional incentives in exchange for email addresses is another excellent way to entice customers to share them with you. Members-only specials or early access to sales help customers feel like it is worth it.
Provide Value Through Emails

An extensive email list is key to familiarizing your target audience with your brand. Once you develop your list, you must use it to provide valuable content to your audience. Otherwise, your strategy might backfire, and customers will unsubscribe from your emails.
A regular newsletter that offers industry insights can help you establish yourself as an authority in the industry. Rather than using a heavy sales focus, think of email as a conversational tool. Use it to educate and show customers how you can help them solve their problems.
Providing a personalized message aids in developing trust and goes a long way toward building and nurturing customer relationships. That will distinguish your communications, which increases the likelihood your emails will stand out from the clutter and have people read them. 
Send Emails Out at Strategic Times
It is crucial to strategize when your emails go out. Depending on your audience, you can time emails to coincide with new advertising, promotions, or events or have them triggered by customer action. An automated email follow-up can capitalize on customer interest with those active on your site. That way, you can keep them engaged with your site by holding onto their interest, or you can encourage them to complete a sale or other action.
Experiment with Your Subject Lines
Subject lines are crucial to getting your audience's attention. Creative and eye-catching subjects will help your emails get opened rather than wind up in the junk folder.
To find a lasting strategy for developing subjects, experiment with A/B testing. Do this by sending out different subject lines to different audience segments to find out what works best with each group. Track your successes and adjust accordingly, then continue to track to maintain the momentum of success.

A good subject line encourages engagement and prompts users to take action and is often the deciding factor whether someone will open your email or not. You can experiment in other ways by adding emojis into your subject or text to lighten its tone. Including images in your emails is another factor that can increase engagement and email success.
Combine Your Email with Other Strategies
Combining your email marketing with other strategies will further heighten your campaign's success. Link it to your social media or use PPC ads to develop your email list, or add blog posts or videos to your emails to make them more engaging. Also, find a way to encourage sharing as a way to extend your reach. An integrated marketing strategy that includes email is an effective way to entice new customers and keep your existing customers informed.   
When it comes right down to it, email is a crucial marketing tool that you can use to heighten the overall effectiveness of your marketing campaign. Your media partner can help you to successfully incorporate it into yours.