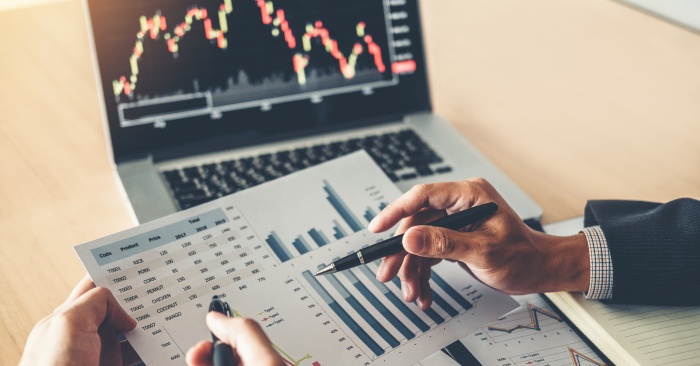 Financial institutions market their firms in many ways. They use billboards, commercials, radio ads, digital ads, and more. As a financial institution, it's important to make your firm stand out. You want to be seen as unique: a leader in the industry and in the community. Right now, many people and businesses are seeking guidance from financial institutions. They want to know how to manage their money in the midst of troubling times, how to prepare for a potential difficulty, and how to continue to move forward with their plans in spite of economic uncertainty.
In order to attract those individuals looking for advice and support from financial institutions, you must find a way to share your message that sets your business apart. Show that you're community-minded, client-focused, and offer immense benefit to your clients.
1. Advertising expands your reach
The more consumers and business owners you place your brand in front of, the more clients will come through your doors. Right now, many people are wondering how to protect their finances. They want to know what steps to take to help grow their savings, manage through job loss, or to prepare for continuing economic uncertainty. Businesses are looking for ways to stay afloat in the midst of uncertainty. Potential clients may not think about turning to your financial institution until they see that critical ad.
Design ads that speak to the current needs of your target audience. Your social media ads should invite consumers to join in the conversation. Encourage them to share their uncertainty, to ask questions, or to share their own tips and advice for managing during times of uncertainty. Create television ads that show how your brand is different from your competitors. Do you offer a more personal touch? Can you provide more advantages, including digital services, for your clients? Speak to the needs of your target audience to spread your reach in a way that will make your brand memorable.
2. Advertising raises brand awareness
Brand awareness is critical for all brands, including financial institutions. A consistent presentation of a brand raises revenue by an average of 33%. Consumers who recognize your brand are more likely to choose it. Through television ads, for example, you can help establish trust in your brand: two times more consumers believe TV ads offer a positive impression of a brand than consumers who believe that of digital ads. TV ads often prove more credible, especially in an age where fraudulent digital ads appear all too frequently.
Right now, your brand has more opportunities than ever to raise awareness through advertising. According to a survey of 44 global firms, 80% plan to decrease media spend this year. Your brand has the potential to move into that space. Create commercials that take into account consumers' current needs. Speak to their uncertainty. Then, explain how you can help solve those pain points or meet consumers' needs.
3. Use your advertising to increase engagement
Engaged customers can drive as much as 23% more profitability. Not only that, but companies with successful customer engagement also suffer 63% less customer attrition. Your ads offer the opportunity to raise customer engagement.
When it comes to engagement, utilizing multiple channels and opportunities remains critical. Seventy-eight percent of consumers prefer omnichannel marketing. They want your brand to engage with them on multiple different levels, combining their digital and in-person experience with your brand. Social media and email marketing offer great opportunities to raise overall customer engagement. On social media, consumers do not just passively absorb your content. They have the chance to interact with it. You can also use social media to get a better idea of the concerns and needs of your current clients.
4. Your advertising allows you to bring in new clients
Many financial institutions are dealing with a wide range of challenges right now: higher credit losses, more overhead expenses, and uncertain credit environments, for example. New clients can help bolster your overall success and financial standing. Right now, as never before, consumers and businesses alike are looking into cost-saving measures or creating financial plans for the future. They need financial advisors who will stand by them and institutions that will help support them. As a result, this is an ideal time to bring in new clients. Not only that, once you do bring in those clients, they will also be more likely to stick with your institution long-term.
Try using your ads to appeal to customers who are ready to make a switch or who need to do something different during this time. Offer them support and advice. Provide something your competitors aren't. These simple strategies can help bring interested consumers through the doors of your financial institution.
Advertising during any season can have an incredible advantage for your financial institution. Building a solid marketing plan in the midst of the current situation can benefit your institution even more. The need for a financial institution is often brought about abruptly. As a result, you want to be in the mind of potential clients before they have a need for your services. Then, when they do, you will be top-of-mind and ready to move them through your sales funnel.