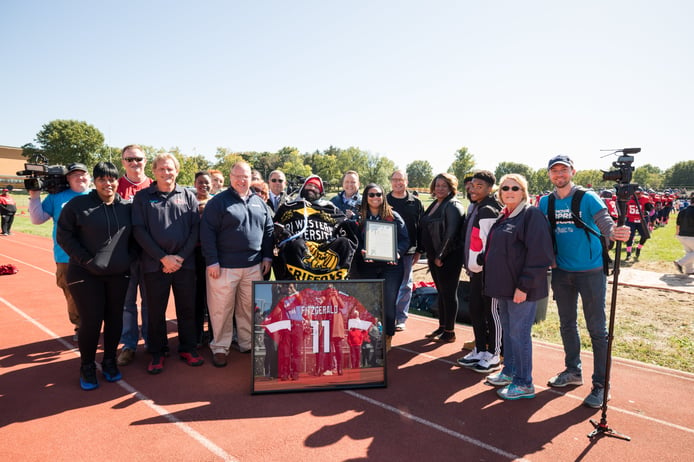 Scott Credit Union formed a partnership with KMOV 4 Advertising to raise brand awareness as they expanded into a new market. As a result of their partnership, the financial institution established themselves as supporters of the local community and gained a reputation for being engaged, active, and philanthropic. By elevating brand awareness, Scott Credit Union saw an increased number of customers and helped a deserving individual in need.
The full case study covers the Scott Credit Union team's problems - most notably their desire to build a new customer base in Missouri to expand upon their successful venture in Illinois. The team was interested in letting the local community know that they were open for business and could offer something different from the competition.
KMOV 4 Advertising ideally positioned Scott Credit Union to make vital connections within the community by identifying the right marketing opportunities. Together, they launched a cause marketing campaign dedicated to brand awareness and the credit union's desire to connect with and give back to the local community.

The Problem
As a local financial institution, Scott Credit Union wanted to establish themselves as a brand dedicated to giving back to the surrounding community. They wanted to differentiate themselves from their competition and provide their potential customers with an opportunity to connect with them in their commitment to giving back.
The Process: Surprise Squad Involvement
KMOV 4 Advertising suggested Scott Credit Union get involved in Surprise Squad. The community initiative delivers "surprises" to members of the local community, providing them with opportunities they might not have otherwise.
Scott Credit Union's Surprise Squad involvement culminated in helping a local coach paralyzed in a tragic drive-by shooting. One of the Scott Credit Union employees suggested the coach as the perfect recipient of a surprise squad visit. The team offered:
A special award that recognized the coach's contributions to the community
A special day just for the coach
The presentation of a handicap-accessible van that would make it easier for the coach and his family to get around
Scott Credit Union didn't want their involvement with Surprise Squad to be a one-time thing. The Scott Credit Union team recognized the Surprise Squad as an essential element of connecting with the local community. It offered a great way to get involved and stay involved in a highly visible way that provides a genuine benefit to local community members. As a result, Scott Credit Union employees often join in on Surprise Squad meetings and provide valuable input into what the team hopes will remain a long-term partnership.
The Results: A Highly Effective Partnership
By partnering with KMOV 4 Advertising, Surprise Squad, and through additional marketing efforts, Scott Credit Union has seen tremendous results since its move to the St. Louis area.
"Our experience with KMOV 4 Advertising has been great," notes Adam Koishor, Chief Marketing Officer of Scott Credit Union. "It's been a great relationship and a great partnership. It's about the people for them, not just all about sales. For them, it's really about the partnership and them making sure that it's a win-win for everyone."
By partnering with KMOV 4 Advertising, primarily through its Surprise Squad contributions, Scott Credit Union was able to spread its reach throughout the community, approach a much wider audience, and establish itself as a company that genuinely cares about people. Thanks to that partnership, Scott Credit Union considers its move into Missouri a success.
Are you looking for more ways to expand your brand awareness or to launch a cause marketing campaign that will help you extend your reach throughout the St. Louis community? KMOV 4 Advertising can help. We'll work with you to find the ideal branding and cause marketing efforts to reach out to your target audience, then help you implement various tactics to achieve your goals.