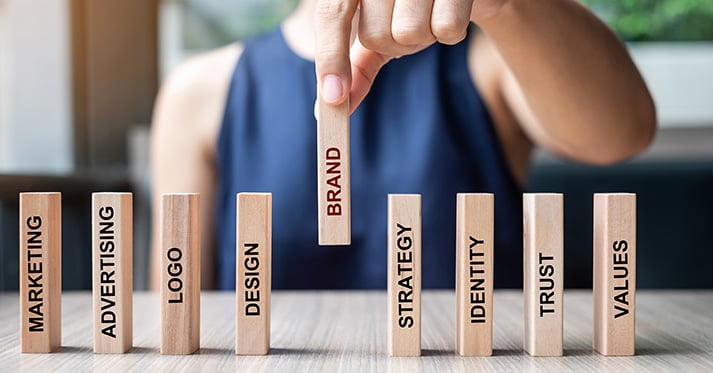 Building your brand is an incredibly important part of establishing your business and helping your customers recognize you. Think about Apple: their branding is highly consistent, and they're constantly branding themselves. As a result, many people not only automatically recognize the Apple logo, they're familiar with the products Apple offers and how those products can help them in their everyday lives. While your brand might not be as recognizable as Apple, increasing your branding efforts can help you more effectively reach your target audience and spread awareness about your business.
Branding Keeps Your Business Top-of-Mind
When you run consistent campaigns, it can help your brand stay top-of-mind with your customers. As part of your branding campaign, you are trying to inform your customers of who you are and how your services can benefit them over time. Your branding campaigns do not occur at specific times, but rather, continue consistently throughout the year. Advertising consistently helps keep up the momentum and keeps customers familiar with your brand. When they're ready to make a purchase, they're more likely to choose your business.
Your brand includes all the elements of a customer's experience with your business: your store, your customer service, and the products you offer. It's much more than just your logo and the color scheme you use, though you certainly want those elements to be recognizable to your target audience. Your brand-building campaign will help share your personality, your products, and the important elements of your business with those customers over time.
Branding Expands Your Reach
The more ads you put out, and the more channels you utilize, the more customers you can get your business in front of. Doing this on a consistent schedule can help you reach a wider audience and ensure that customers will recognize and be familiar with your business. Not only that, but branding campaigns can also help encourage the customers you have now to refer your business to others, which can, in turn, bring more customers to your door.
Think, for example, about McDonald's. Not only are those golden arches highly recognizable, but most people are also familiar with exactly what the restaurant has to offer. Their commercials help keep the restaurant top-of-mind and ensure that when customers are hungry, they're familiar with the options that McDonald's offers. Not only that, but those commercials also keep interested customers aware of the latest changes to the brand and how it has the potential to impact them. As a result, when people think of fast food, they often think of McDonald's. The association may also bring out a craving for exactly the food McDonald's has to provide, which will bring the hungry customers to arches.
Branding Helps With Recognition
Your branding campaign gives your business identity, one that your target audience can count on. Multiple factors work together to create recognition, such as consistent branding, effective messaging, and an interactive website. Think about State Farm's ads. The company focuses on several key things. Most notably, letting its customers know that State Farm will be there to help them through the difficult moments following an accident.
These branding ads help generate substantial brand recognition, which means that people who are interested in obtaining insurance for the first time, or people who are considering changing their current insurance company, are more likely to consider the brand. The consistent messaging, including the company's familiar tagline, enhances recognition of the company's efforts and establishes how it is different from other insurance companies.
Branding Brings Value to Your Business
Through your branding efforts, you will create trust and credibility with your customers. Consistent branding helps establish who you are and what you stand for. Through your campaigns, including digital, print, and television media, you can help establish a sense of trust. Branding helps customers have the same experience with your brand no matter how they interact with you, which helps establish you as a consistent, trustworthy business. Building trust with your customers is a critical part of establishing your brand. Your customers want to interact with businesses they can trust. As you continue to establish trust, customers are more likely to return to your business for their future needs, substantially increasing a customer's lifetime value to your business.
Building your brand is an incredibly important part of establishing your business. As you build consistency through your advertising, you will discover that this, in turn, helps build customers' awareness of your business. As brand awareness increases, customers become more likely to look to your business when they have needs in your industry. Through your branding efforts, you can bring immense value to your business, including customers' perceived value of what they will receive when they partner with you. Working with a media partner can help you establish and build your brand, providing you with a better look at exactly what you need to reach your goals.