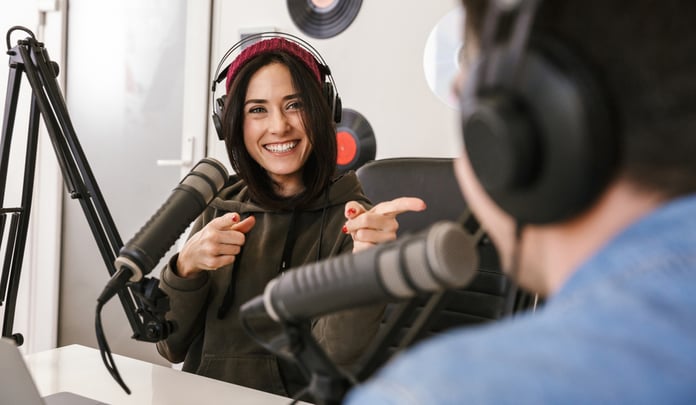 Previously called 'audioblogging' in the 1980s when it was still new, podcasting took off in the last decade as more people have taken to it for more than just music and gossip. Today, every topic under the moon is covered by a podcast, entertaining more than 50% of all U.S. homes with over 525,000 active shows and more than 18.5 million episodes.
So, what do listeners like?
Seventy-five percent of listeners listen to podcasts to learn new things. The leading podcast genre in the U.S. is comedy at 22% (with news at 21%, true crime at 18%, and sports at 17%, following close behind). From there, podcast listeners listen to a broad range of topics that interest them.
Here's everything you need to know about podcasts to start taking advantage of the opportunity.

Podcast Advertising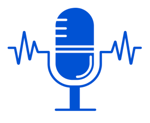 Podcasts are usually a free medium that either have paid sponsors or actual ads promoting your brand or message, somewhat similar to how radio ads work. Paid sponsors are popular because listeners have grown a bond with the host and are trust them — and so they also trust you when their favorite host promotes you. On the other hand, actual ads are small little voice scripts played over the podcast, streaming whatever you want them to deliver to their audience.
As for placement time, these come in three types usually:
10-seconds
30-seconds
60-seconds
The Various Types of Podcast Ads 
Advertisers also have a variety of podcast ad types to choose from when deciding what, how, and when they're going to deliver it to audiences.
Your podcast ad options are:
Baked-In Ads: 'baked in' refers to the ad smoothly being a part of the show's recording and is downloaded with that ad in it always. It is the most common type of podcast ad. 
Dynamically Inserted Ads: dynamically inserted ads are a more technologically advanced insertion of ads. With these, the podcast itself is uploaded without ad content, then whenever an episode is downloaded, the ad is inserted depending on where and who is downloading the podcast.
Pre-roll: placed just before the host gets into their podcast topic and discussion.
Mid-roll: placed in the middle of the podcast, while listeners are actively engaged with the host, podcast, and topics being discussed.
Post-roll: placed at the end of the podcast show, when most podcast listeners are getting ready to tune out.
Pricing For Podcast Ads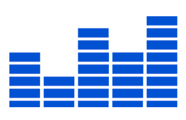 Podcast ads are priced using formulas like cost-per-thousand impressions (CPM) and cost-per-acquisition (CPA) or as a flat fee — which is much less common than the two other formulas. For this reason, it may be better to start with a smaller podcast in the beginning to stay on budget and get a feel for it. That way, you'll be able to test out podcast advertising before spending a significant amount of money on it.
When calculating your potential podcast ad costs, AdvertiseCast has a helpful calculator that includes listener reach, 30/60-second ad time, and CPM rate to measure your results. With that being said, average rates sit around $15 for a 10-second ad CPM, $18 for a 30-second ad CPM, and $25 for a 60-second ad CPM.
However, the opportunity is worth the cost, especially since people spend 59% more time listening to podcasts than scrolling through social media, and 17% of people are much more likely to consider brands when advertised on their favorite podcast.
Using Podcasts to Advertise 
Finding the proper podcast to advertise on requires you to determine which show aligns with your business goals and will reach your customers the best way possible. Before jumping into the most popular podcast for advertising or even choosing the cheapest, you'll need to strategize your ad spend and determine the type of ad you want.
When you have that figured out and with your target audience in mind, you can then find the best podcast match for you.
Implementing Your Podcast Ads 

Creating your ads depends on the type of ad you want. It ranges from having the host read your ad, from a script or otherwise, or requires you to record it yourself. In many cases, having the host read it can be more beneficial because it's being promoted by the star of the show (and listeners trust the host's opinion!).
You'll also want to track your ad's success by measuring ROI, either by using the show's ratings or using vanity URLs, promo codes, or surveys. This is particularly true if you have an ad agency and media partner who can work together to help you measure and evaluate the success of your ads to manage future decisions. A media partner, in particular, can help you create and implement your podcast ads, and using their industry connections can also connect you to the best podcasts.