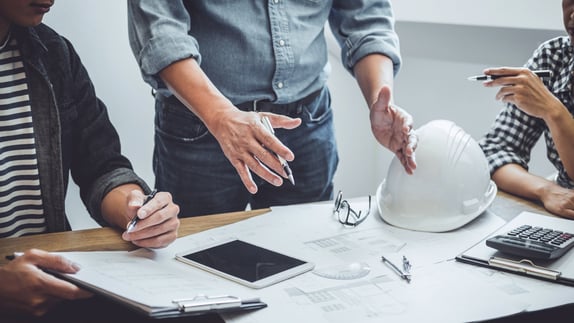 Creating brand awareness through advertising is essential to building a successful business. Without proper marketing, your potential to attract customers is limited. Marketing enables you to get your name in front of people and inform them of the services you offer.
Marketing is a necessary learning experience for small businesses, especially those with seasonal fluctuations in business, such as construction companies. Marketing and advertising builds brand awareness to help you connect with potential customers and build a consistent source of qualified leads.
Getting the word out can be challenging for a small business due to a lack of resources, including time and budget. But a strategy for building brand awareness that drives customer sales requires year-round marketing and not just during your busy season.

Marketing All Year Maintains Brand Awareness
Your construction company's brand lets prospective customers know what to expect before the work even begins. Strong branding builds trust and credibility. Your clients know who you are and what they can expect when choosing you.
The construction industry is highly competitive, and when a potential customer in your market is ready for a project, you want them to think of your name first. Marketing consistently all year will increase brand awareness and keep your business at the top of your customer's minds.
Nearly all consumers today have online access, and it's common for them to research a project and various construction companies before deciding. Research suggests that  online content influences 93 percent of all purchases. Many customers will research ahead of the construction season, and it's critical to provide potential customers with online avenues that make your business accessible regardless of a customer's needs at that given time.
Whether your company does home or commercial construction, increasing brand awareness helps you network or place bids. Due to the high costs and overall massive investment that is a natural part of this industry, consumers and clients take a large span of time before committing to hiring these companies. Brand awareness lets your reputation of excellence speak for you, keeping you in their minds as they know what you have to offer.
Increase Ad Frequency to Prepare for Your Season
While your branding strategy should contain year-round advertising, the intensity will vary. Typically, depending on your season and the sectors that you serve, you will want to increase your advertising efforts in the time leading up to your busy season.
While many major construction companies bid on large projects throughout the year, home remodeling and construction projects often fluctuate more. Therefore, your marketing timeline should take into account these seasonal fluctuations as well as the length of your sales funnel and customer journey. By analyzing these factors and incorporating them into your branding strategy, you can improve the effectiveness of your marketing efforts.
Research and Plan While Business is Slow
The off-season gives you more free time. But, while it's essential for your physical and mental health to take time to relax and reinvigorate, how you spend your time during these periods can affect your business during the busy season.
In the construction industry, the busy season usually leaves you short of time. Between placing bids, ordering supplies, supervising job sites, and the countless other things that demand your attention during the busy season, there is little if any time available to plan a marketing strategy.
The off-season provides the free time to plan your marketing campaigns and budget. You can use this time wisely and improve brand awareness by creating a content calendar that maps out your marketing strategy for the year. Create your display ads and TV commercials during the slow period, determine the best advertising frequency for your business, and develop your budget accordingly. Investing time to plan and create a content calendar for the year enables your branding and marketing strategies to run automatically without requiring your valuable time when you are at your busiest.
Make Messaging Consistent Across Channels
Brand consistency is how your organization's messages align with the company's core values, brand promise, customer experience, and brand identity. Messaging consistency ensures that customers easily recognize your company across all marketing channels. Making your message consistent across all channels creates a cohesive brand identity and a unified experience for potential and existing customers.
In an ever-evolving marketplace, establishing brand consistency helps differentiate your company from competitors. In addition, brand consistency helps to ensure that people see your company as credible, reliable, and trustworthy, making it critical for your business to be consistent in communications across each step of the buyer's journey.
Branding is complex in the digital age, as the number of channels to reach customers and create brand awareness has increased. Brand consistency requires a unified look across multiple channels, including:
Website Content
Social Media
Online Video Platforms
Outdoor Advertising
Review Sites
Email Marketing
Newsletters

Choose an Experienced Media Partner
Creating an effective marketing strategy can be challenging. The fast-paced and highly competitive construction industry often has seasonal fluctuations that influence many business decisions. Building brand awareness requires thought and planning, and improving your visibility necessitates advertising year-round and during busy times. With careful planning, you can have that process in place without worrying about marketing while you have a lot on your plate.
Working with an experienced media partner gives you access to a broader range of advertising expertise. Collaborating with a media partner helps shorten the learning curve experienced by many small businesses and reduces the risk of costly mistakes. A media partner will have the specific knowledge, experience, and skills, to help you develop and implement your branding strategy, enabling you to take a more hands-off approach to marketing without sacrificing quality.