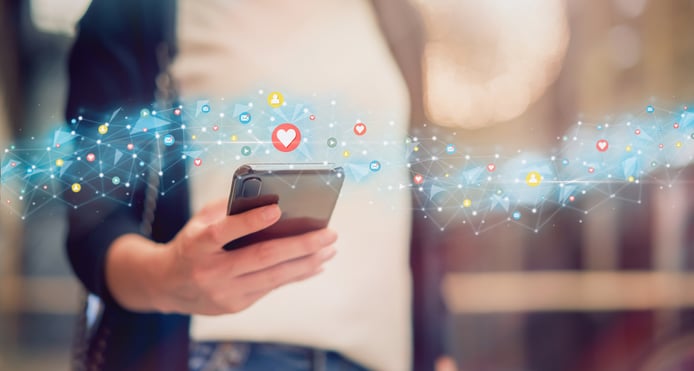 Social media's rise in popularity over the years has changed the marketing and advertising landscape in numerous ways. Some brands have used social media to their full potential, culminating in unparalleled success on various platforms. Brands from fashion retailer Boohoo to major corporations like Sony know how to post just the right content and connect with their audiences. They understand how to acquire millions of followers and, subsequently, customers. Your business can also find success with social media if you take full advantage of these platforms to engage with your audience.
To help you decide on the best social media platforms to use for your business, we'll take a look at some of the top social platforms for businesses. While we've found the following three to be great for many industries, this list could vary depending on where your target audience is found. Each of these platforms has a key demographic, so you will need to carefully select your target audience before choosing the right social platform.

Instagram

Instagram is an excellent platform to use if you want to target younger audiences 20-40 years of age who are more likely to shop on mobile devices. Instagram enables people to shop through the app using the "Checkout" feature, making eCommerce easier. The Instagram Stories feature is popular among users, as it enables you to share videos and photos that appear on the site for 24 hours, making for quick, effective ad opportunities.
There are currently around 1 billion active users on Instagram, more than 500 million of whom use the platform every day, including the Instagram Stories feature. When it comes to Instagram Stories, 1/3 of the most viewed stories are posted by businesses and viewed by consumers.
Generally, some industries that do the best on this platform include marketing, retail, fashion, education, and restaurants, all of which can post plenty of visual content to engage audiences.
Learn more about how to use Instagram for your business with the following articles:
Twitter

Twitter is another popular platform among a wide range of businesses across many industries. There are currently around 1.3 billion Twitter accounts today. The platform has over 300 million monthly active users and 145 million daily users, and another 500 million people visit the site monthly without logging in. Twitter also holds some unique influence over consumers, as 54% of users have reported taking action once they saw a brand mentioned in tweets.
What makes Twitter particularly useful is the ability for brands to communicate with audiences. Whether via public posts or private messages, customers can ask questions, speak their concerns, and share tweets to increase the number of brand mentions. In turn, businesses can respond to any comments or messages, and those responses have the opportunity to encourage additional positive engagement. As a result, many businesses have been able to showcase their customer service skills on this platform to improve their brand reputation. Hashtags are also a great way for brands to engage with their audience, whether they share trending hashtag-related posts or launch their own hashtag campaigns to further increase brand awareness.
Around 38% of Twitter users are 18 to 29, and another 26% are 30 to 49 years old. The platform is also ideal for targeting audiences with higher income levels, as 77% of Americans earning $75,000+ use Twitter. Nearly any industry can benefit from using Twitter to develop a social media presence, from small businesses to large organizations looking to build a loyal audience.
Learn more about how to get the best results from your Twitter campaigns with the following articles:
Facebook

Facebook remains one of the most effective tools for businesses of all types. With around 2.45 billion active users, Facebook is still the reigning king when it comes to popularity. However, it's important to keep in mind that the platform is seeing changes in its demographics, primarily around age: Fewer teens are using the platform than they used to, while users 65 and over are the fastest-growing segment on Facebook.
Like Instagram, brands on Facebook can post stories that feature videos or photos that stay up for 24 hours and have the chance to gain plenty of viewers. Facebook is also great for running paid ad campaigns, with plenty of tools that make it easy to target the ideal audience with video or image ads that drive engagement. At the same time, you can post regularly on your company page, which can increase engagement. You also can communicate with audiences in comments, like you would on Twitter.
The entertainment, real estate, marketing, retail, and education industries are some of the top-performing industries on Facebook at the moment.
The following articles can help you get the most from Facebook campaigns:
Bonus Sites to Keep in Mind
In addition to Twitter, Instagram, and Facebook, these two platforms are also helpful for many businesses looking to get the most from their social media marketing.
YouTube

If you want to use video marketing to appeal to your audiences, YouTube is a great option for nearly any industry. You can target any demographic, from young to old and at any income level, with over 2 billion monthly users and 73% of American adults using the platform. YouTube videos are easily integrated with other social media marketing efforts, enabling you to share your videos on Twitter and Facebook.
Businesses in just about any industry can benefit from using YouTube, including retailers, manufacturers, eCommerce businesses, healthcare practices, law firms, and many others.
Read the following articles to learn more about how YouTube can help your business:
LinkedIn

LinkedIn is ideal for marketers who mainly want to connect with key business decision makers. You can share posts, including informative regularly posted vlogs, or you can build a network of industry professionals who can help your business grow. It's also incredibly popular among many demographics, with 27% of American adults signed up on the platform. If you want to reach international audiences, LinkedIn is beneficial as over 70% of users are from countries outside the US, including India, China, Brazil, and Great Britain.
Ultimately, if you want to appeal to career-oriented audiences and other businesses, LinkedIn is a valuable platform to use. You can also use LinkedIn's Website Demographics feature to gain insight into your websites' visitors, including job title, and much more.
Learn more about how to use LinkedIn for your business with these helpful articles:
Use Social Media to Achieve Long-Term Success
As you develop your marketing plans, don't neglect to use social media platforms along with other marketing channels. Business and social media go hand-in-hand, so it's important to do what you can to use social media to your advantage. Through the use of Twitter, Facebook, Instagram, or a combination of multiple platforms, you can maximize your reach and significantly increase conversions. Although analyzing and staying up-to-date with the latest social media trends can be intimidating, working with a media partner can always help.