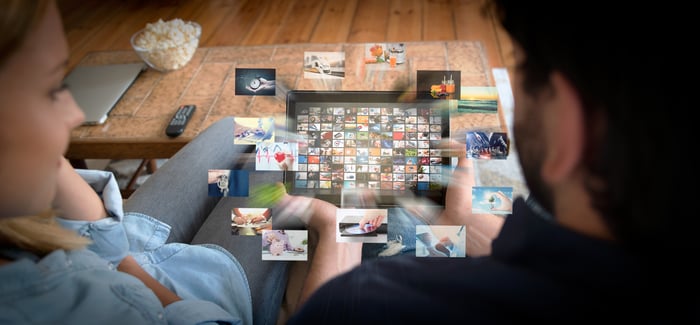 Businesses that want to see results know that they have to consider their advertising dollars carefully. You have a limited amount of advertising dollars, and you want to make sure that you spend them in the places where they will deliver the best results for your business. By spending your advertising dollars in these three key areas, you'll find that you're able to get the results you're hoping for.
Consider, for example, Verizon. It's a well-known name in most homes. Many people can quote their, "Can you hear me now?" tagline that ran in television ads starting in around 2002. This highly popular advertisement helped spread the word about Verizon's network and increased brand awareness substantially. You, too, can help expand your advertising and see results through these channels.
Television Advertising
If you're trying to reach a large group of people at the same time, then your business should be advertising on TV. Television is currently reaching more people and producing more results than ever. On a local level, you can improve your results by working with a media partner that knows the community, your industry, and what steps you need to take to reach your potential customers.
There are several strategies you can use to utilize TV advertising:
Commercials
Product placement
Custom sponsorship opportunities
Television advertising is one of the most effective ways to establish brand awareness and increase your overall credibility. It puts a face to your business: someone that your customers will recognize and connect with you. Customers are excited to see your business on TV and will make that connection when they visit you in person. In many cases, television advertisements can substantially increase sales simply by increasing awareness of your business.
Digital Marketing
Not only is digital marketing an important marketing strategy in its own right, digital marketing can be used to compliment your existing marketing efforts, including your TV advertising. This provides your campaign with another level of engagement. Consider these aspects when deciding how to incorporate digital advertising in your campaign:
A media partner can help you get the most out of your digital advertising dollars. Not only can your media partner provide you with the high-quality content you need to help your digital marketing campaigns excel, they can position your brand on their website and social media channels, lending credibility to your brand and greatly expanding your reach, thus making it easier for you to connect with more potential customers.
Digital marketing can provide you with precise targeting to niche groups. Many digital marketing avenues allow you to hyper-target your advertisements, whether you're focusing on keywords that relate to those niche groups to improve your SEO or using social ads to niche groups to encourage interaction and a deeper level of engagement with your business.
Your digital marketing efforts can be easily and effectively matched to your overall marketing goals. Digital marketing is incredibly flexible and allows your business a wide range of opportunities. You can often adapt your digital marketing efforts to match your budget and your overall plans.
Digital marketing is an excellent marketing tactic that can increase brand awareness by improving your overall online presence. Digital ads are ideal for spreading the word about your business to even more prospects. Your digital marketing efforts can also cause a significant increase in your overall sales.
Streaming & OTT Services
If you're looking to take your advertising campaign a step further, advertise your brand on OTT platforms. These platforms can help you expand your reach even further and reach your audience in more places. You can often repurpose TV advertisements for OTT services. These platforms can reach more potential customers who prefer to take in their media in a different way or might have missed your ad when it aired on TV. Through your OTT ads, you can include more interactive CTAs, which can help customers make a direct connection between that content and your brand--and in many cases, you can generate immediate clicks and sales from those advertisements.
By utilizing streaming and OTT ads as part of your overall marketing strategy, you can often raise brand awareness and spread the word to customers who don't normally watch the channels you advertise on. You'll also find that your advertisements can generate additional traffic and raise sales. You can also highly target streaming and OTT ads to the individuals who watch specific types of content for an additional personalization boost.
As a brand, these three key types of advertising can go a long way toward helping you reach your overall goals. By focusing your advertising spend in these areas, you can improve awareness of your brand, reach a wider pool of potential customers, and build your sales over time. Working with a media partner to integrate these different methods of advertising can also further expand your reach, by utilizing their platforms to spread awareness of your business and by improving the overall integration of your marketing strategies within high-quality content.