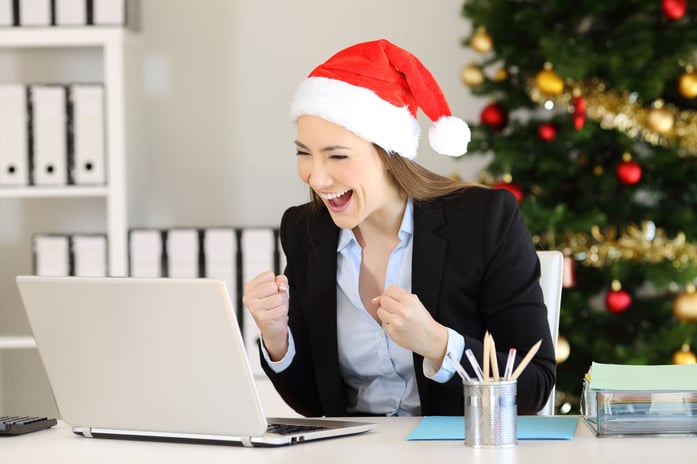 Seasonal marketing focuses on highlighting specific services or products at certain points of the year, such as holiday advertising during Christmas or back to school campaigns every Fall. Many companies flourish during these seasonal marketing periods, with studies indicating that 80% of consumers are influenced to make a purchase based on an ad they've seen.
If you are looking for ways to get ahead with your seasonal marketing campaigns, consider implementing these three habits of highly effective seasonal marketers that can really put your brand over the top.
1. Identify Trends from Past Seasons
One critical way that seasonal marketers get ahead of their competition is by identifying trends from past seasons. Analyzing past year's data allows them to hone in on their current seasonal strategy and campaign goals. So, what is the best way to track this critical data? Examining trends in website traffic, keywords, and even sales performance can provide valuable insight into your seasonal marketing campaign. Past data provides you with answers you want in a way that is easy to understand and digest, and it can help you come up with actionable items you need to take for your current campaign to be a success.
Another benefit of identifying past trends is that it can help you realize you do not have to reinvent the wheel every year. When you evaluate existing and successful campaigns, the data can show you that you can recycle your best-performing, evergreen ideas and get the results you want. Take a look at the Hershey company and its "We Wish You A Merry Christmas" commercial. The chocolate brand has run this ad every single year since 1989. Yet, it works and still brings in the numbers that the company wants time and time again.
2. Study the Competition
To get ahead in any business, you need to understand the importance of knowing what differentiates your brand from your competitors. This is especially crucial when it comes to seasonal marketing since everyone is focused on the same goal. When you can figure out what sets you apart, you can use this competitive insight to your advantage. Studies have shown that competitive analysis can improve your market performance by 78% and even increase sales by 74%.
Seasonal marketers often use the following questions to help them figure out ways to get ahead of their competition:
What was their key messaging? These key messages are the main points of information a company wants its audience to hear, remember, and understand. They are often bite-sized summations that clearly articulate what their company does, why it does it, and how the company differentiates itself from its competitors.
What types of content did they use? Seasonal marketers are great at using different kinds of content (blogging, videos, infographics) to connect with the many different customers they have. They make sure to figure out which channels are ideal for reaching and connecting with users at various stages of the sales funnel.
What did they do that worked? By looking into data from past years, seasonal marketers can target which strategies were optimal in reaching the results they wanted. Studying these different methods can help them plan ahead and figure out what they need to try again and what marketing efforts need to be left behind.
What could you do differently to set yourself apart? Looking into unique ideas can help separate you from your competitors, especially with many of them using the same methods and forms of advertising. Consider looking into what your company's competitive edge is, what specific goals you have, and how you can turn your weaknesses into successes.
3. Plan Ahead
Many businesses often start their seasonal marketing campaign just before their annual opportunity. However, this is not the best way to incorporate seasonal marketing. If you truly want to gain an edge over your competition, you need to start planning well in advance. Give yourself plenty of time to evaluate the whole market and develop effective and unique campaign strategies.
Highly effective seasonal marketers pin down the important events they want to work with and then determine the following factors in advance:
What their offer will be
The channels they will be using
The assets they need
For example, when considering an offer that your brand will be promoting, you need to make sure that it's a unique offer that's only available at that specific time. This can include one time services, specific discounts ("limited-time offer"), or even freebies.
Additionally, optimizing your content, especially when it comes to your specific channels can play a substantial role in driving sales. Creative, unique, quality seasonal content that provides value to your consumers can really help boost sales and drive brand awareness. That is why it's important to boost social media presence during this time and make sure to enhance photos and videos to drive your conversion rate.
Take Poo Pourri, for instance. This brand continuously uses humorous-but-effective ads for its bathroom products. However, leading up to Christmas, the brand created a commercial reflecting that "Even Santa Poops" and the results were amazing. The ad alone gained almost 20 million views on YouTube and brought the brand the results that it wanted.
What It Comes Down To
There is no better time to start thinking about your seasonal marketing campaigns than right now. Preparing early will not only help set your brand up for success, but it can also help you avoid that mad rush and significant panic at launch. Highly effective seasonal marketers not only plan months in advance to optimize their strategy, but they also understand that the key to standing out is by focusing on what they have to offer that is unique.
Remember, seasonal marketing is not only a way to spruce up marketing efforts during specific times of the year. Rather, it is a way to establish a lifetime value with your brand. If you want to get ahead with your seasonal marketing strategies, consider working with a media partner you can trust. These experienced partners can help you decide which marketing techniques work best with your brand and which strategies can save you money. More importantly, they can increase your chances of getting the success you want from your seasonal marketing campaign.