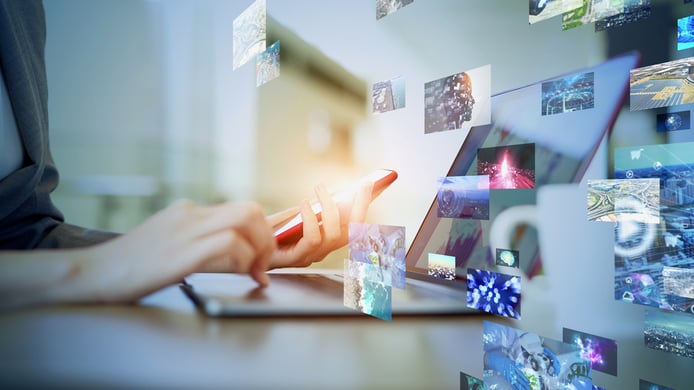 There's no denying the importance of an online presence. The truth is the internet provides your customers with constant access to your company. That sort of availability is essential when consumers expect their favorite companies to have 24/7 customer service. Effective online ads help keep your business top of mind, which is also crucial since the competition can be fierce in most industries. 
It's no secret, either. Marketers have quickly taken to the digital world of advertising. The average company allocated up to 62.3% of its total media ad budget to digital in 2021 and predicts it will reach 66.8% by 2023.
Let's dive into seven tips for digital marketing — with particular attention to creating online ads that cut through the noise and reach the right target audience.

1. Let Your Ad Placement Determine Your Format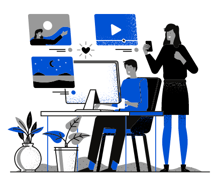 You need to design your ads according to where you want them displayed, especially since a search engine ad and banner ad are fundamentally different. For one, search ads appear to those searching for your product, whereas a banner ad can appear in various places on the internet and who sees it depends on targeting parameters.
Another consideration to keep in mind is whether you want your ads to appear on desktop sites, mobile sites, as videos, or as pop-ups. This information will help you determine and optimize your design accordingly to get the best results from your efforts. After all, it's your online ad design that attracts viewer attention first — then your words.
Note that you should base this on where your audience will most likely encounter the ads. For instance, if you're a local restaurant, people may be likely to search for you from their phones while they're out, whereas a storefront may be better off optimizing for desktops to reach people researching items at home.
2. Learn Who You're Trying to Reach
It can't be emphasized enough just how crucial it is to know who your audience is to create ads that get their attention and learn which platforms they're most likely to encounter your ads on — based on both interest and location.
Another unique and competitive advantage of knowing your consumers is that you can base design elements on what your audience likes to get their attention and ensure your ad resonates enough to encourage action.
You could even segment your audience to create different ads to reach these different groups, bringing much more value to your offer regarding personalization and consumer relevancy. 
3. Make Your Calls to Action Clear and Compelling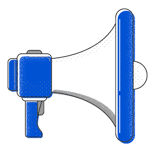 A strong call-to-action is crucial to almost everything in marketing, but especially so in digital advertising. Digital ads have limited time to make an impression and need to get their point across quickly.
Having a compelling call to action that clearly explains the value of your business and company directs your audience to complete your intended action. It can be helpful throughout their buyer journey and directly impacts conversion rates in most cases. 
You have a brief amount of time to get your audience's attention. It's crucial to develop your call to action as a centerpiece of your ad design to make a splash. For instance, adding a sense of urgency with words like 'now' or using action-oriented words like 'start' and download' will make a big difference.
4. Make Your Ad Design Consistent with Your Website
You want your website and ad design to be cohesive, so people clicking onto your site will have your branding reinforced to form a better impression of who you are and what you stand for.
Consistent brand designs are reassuring to the people visiting your site, which both lowers the bounce rate and increases conversions. That puts the focus entirely on your brand, and everything you do should be consistent with your brand identity, message, and values. Customers will be better able to recall and recognize your brand while instilling much more authenticity and value to your business, bringing more credibility and trust.
5. Use Quality (And Properly Formatted) Images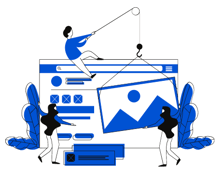 Formatting and quality matter much more than you may think, especially for online ads centered around an image. It's crucial that your image properly presents the critical information to showcase your brand and products without using too much text.
Quality images capture people's attention quickly, especially since the human brain can process images up to 60,000 times faster than words.
However, you will want to note that testing for proper formatting is crucial to your online ad efforts. If your ad looks off, it will reflect very poorly on your brand and likely turn off many potential customers. 
6. Integrate Online Ads into Your Bigger Strategy
You'll also want to use your online ads to reinforce the other aspects of your advertising strategy to get the most out of your online advertising experience.
You can do this in various ways using digital marketing efforts like email marketing, social media, SEO, or SEM. You could use online ads to encourage email sign-ups for your email list or increase sales as a counter for your other brand awareness campaigns. 
These are only a couple of possibilities. Integrated marketing significantly impacts the success of your advertising, even if it's only used to increase impressions and improve brand recall and recognition. 
7.Track Your Analytics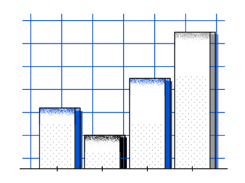 The great thing about digital ads is they allow you to track your analytics to learn more about your audience to segment future campaigns and keep track of how well your ads are performing. You can use this to conduct testing to see which of your ads perform better and strengthen your overall campaign performance.
It can also influence your future efforts with valuable insight into what works with your target audience and what doesn't.
This insight and information, combined with the other tips like placement, audience, quality, and design, make for a more successful ad campaign and make a much better impression on the right people. Not to mention, online advertising is also incredibly cost-effective and a valuable component of your marketing strategy.